Before finding the Val-Martin Community Center, Chihab, originally from Morocco, struggled to fit in. With the support of the centre, he was able to create his identity, establish himself, and trust others. He now has a circle of good friends, and he even volunteers with the youth who attend the agency.
---
"My name is Chihab, and I'm 20 years old. I was born in Morocco, where I spent the first 13 years of my life. Things were good there. I did well in school, my family loved me, and I had many friends. When I came to Canada, the change was difficult for me. I had to get used to the language and the fact that I was different from others. As a result, I shut myself off and was often alone.
Four years later, a social worker at school told me about the "Ça CLIQ" project run by Maison des jeunes at Val-Martin Community Center. I immediately took a liking to the program.
The Val-Martin Community Center was very welcoming. I found a family there, and I became close with the facilitators. I really enjoyed my experience. Maison des jeunes helped me find my place in the community, continue my studies, and make new friends."
THE VAL-MARTIN COMMUNITY CENTER WAS VERY WELCOMING. I FOUND A FAMILY THERE, AND I BECAME CLOSE WITH THE FACILITATORS. I REALLY ENJOYED MY EXPERIENCE."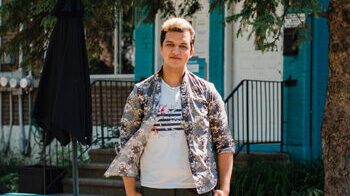 "I created such strong ties with the agency that I plan to continue to attend Maison des jeunes, even though I'm a young adult. I now volunteer and help the social workers, which is a lot of fun. I like to feel like I am making a difference with young people and giving back the help I received. Val-Martin Community Center changed my life. The independence and confidence I developed at the youth centre now allows me to help others."
— Chihab
Watch Chihab's testimony
NEEDS ARE GREAT, LET'S
SHOW YOUR LOCAL LOVE
FOR OUR GREATER MONTREAL!