Our major
philanthropists
Major philanthropists choose Centraide to contribute to the social development of Greater Montreal and provide a safety net for vulnerable members of the population. Their enthusiasm and generosity are a great source of strength.
Major Donors contribute to Centraide with personal donations of $10,000 or more. They form a network of more than 625 donors in the Major Donors' Circle, which is overseen by the Major Donors Cabinet, a group of influential volunteers who personally solicit donations from their peers.
Although the year was difficult for so many, it was also a period marked by great commitment and generosity. It is our hope and determination to do even more to alleviate the social impacts of this crisis that will propel the Circle forward this year. Vulnerable families, seniors, single people, and youths all need the essential support of Centraide's network of agencies. It is an honour to team up as co-chairs of the Circle and to see the tremendous difference that new and loyal Major Donors can make in Greater Montreal by contributing to the fight against poverty and social exclusion, together."

Eric La Flèche, Chair of the Major Donors' Circle
As a member of the Major Donors' Circle, you'll receive :
A recognition cocktail on behalf of Lino Saputo Jr., honorary chair of the Major Donors' Circle.
A luncheon and presentation on Centraide's investments, offered by the Caisse de dépôt et placement du Québec.
A personal meeting with a Centraide representative about community issues and philanthropic objectives.
Activities in organizations supported by Centraide, in groups or customized for the donor and their family.
Networking opportunities with people from all walks of life in the Greater Montreal Community.
"Sharing, lending a helping hand, and a desire to support organizations and our community have always motivated us to give back. It is our way of sharing our own successes with the community and those in need. Over the years, we increased our annual gift according to our capacity. It is only natural to give back when one has the ability to do so! Giving to Centraide is an informed choice: here is an efficiently structured organization with a proven record of sustained impact in our city. We are happy to know that our donations are wisely invested in Greater Montreal community organizations that are responding to some of the city's most pressing needs."
"Those who know me also know that my profession, passion, and mission are and will always be the well-being of our seniors. Working with the elderly has made me acutely aware of their difficult reality. The hardships they experience transcend generations, afflicting several communities who lack resources and are therefore limited in their capacity to help the most vulnerable. We are often motivated to get involved in important social issues by a profound desire to be part of the solution. Centraide is not only a vehicle for change rooted in humanistic values, but also operates an impressively rigorous model. The rich culture of human ingenuity within this organization makes it one of the finest examples of successful community organization and mobilization in Quebec. Philanthropy is essential for a society to foster an environment where humanity can flourish, and without it, a great societal imbalance prevails. The present circumstances compel us to reconsider our core values. We will need to be more altruistic and we will need to rely on organizations like Centraide to ensure our collective salvation. We ALL need each other… to help each other."
"We recognize our good fortune, while many families in Greater Montreal are in need. And as much as we would like to, we cannot support everyone, but we can still make a difference. Giving to Centraide is our way of reaching as many people as possible. We know that our donations will be invested in accordance with our values and the issues that we hold dear to our hearts, and that they will have an important impact in our community. Therefore, we endeavour to do our part financially, while also volunteering on the Major Donors' cabinet. Getting involved and asking our network to do the same enables us to ensure that Centraide can support vulnerable people all year round. This mandate is even more important in these times and will continue to be long after the pandemic is over. We must all live together, and it is only natural that we contribute to strengthening the social safety net of Greater Montreal."
"It all comes down to our values. The importance of sharing, love, and lending a helping hand were instilled in us by our parents, core values that we hope to pass down to our children. We want them to understand, through education and concrete experiences, that they are privileged and have to think about those who are less fortunate. We make our mark on the orld not with the money that we have in the bank, but through our actions. When I learned that the postal code of one's birthplace can predict a young person's success rate, I was shocked. It's unjust! This is why we commit our time and money to Centraide. We can see the importance of Centraide's role, supporting organizations that are effective, responsible and accountable. We really trust the organization's transparent and rigorous governance !"
"Last year, I decided to increase my contribution and join the Major Donors' Circle, as well as volunteer with the Major Donors Cabinet. This is a commitment I take to heart and that I share with my network, colleagues, and family. When they observe the impact of my engagement in our community, they are often motivated and happy to get involved. By giving to Centraide, I know that my donation will be invested efficiently and effectively. My confidence in Centraide and its social expertise is reinforced by Charity Intelligence Canada, which gives it a top rating (four stars) for efficiency, transparency, and governance. I am convinced that the work accomplished on the ground, by the talented people running community organizations, is crucial in supporting children, breaking the isolation of seniors, and meeting the basic needs of vulnerable populations."
"By getting involved with Centraide, I felt I could do my part to ensure that women are better represented within the Major Donors' Circle and the Cabinet. In the process of bringing together groups of women from different backgrounds for educational events that would enable them to learn more about Centraide's mission, I was delighted to discover that, like me, all were wholeheartedly committed to our Greater Montreal. What they learned about Centraide aligned with their philanthropic interests and guaranteed them the transparency and thoroughness to be expected from an organization to which they could make a major gift. Greater Montreal is teeming with socially committed and driven women who are simply fantastic! They bridge generations and continue to raise awareness amongst other women about the poverty and social exclusion that still affects so many children and families."
*Caitlin Gill and Clare Chiu, absent in this photo, are also members on Mary-Dailey Desmarais' team. This photo was aken pre-pandemic.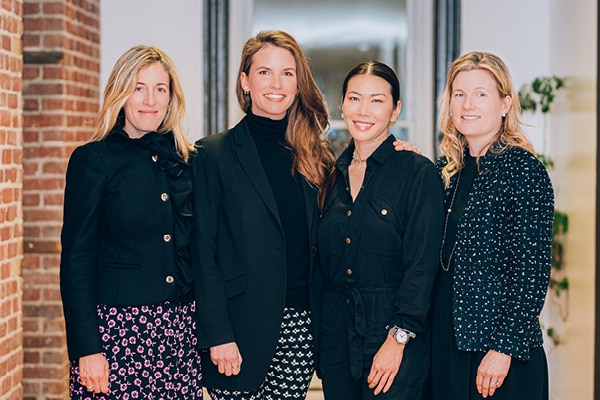 "After working abroad for 8 years, we have come to realize the importance of community spirit, and how much we appreciate it in Montreal. We have always been socially involved, but when it comes to entrusting a substantial donation to an organization, our confidence goes to those who invest their funds wisely and have a significant impact in Montreal. That is why McCarthy Tétrault has chosen Centraide as its partner for the #InclusionNow program, a program also close to our hearts as a family, which seeks to break down barriers to social exclusion, particularly the integration of newcomers. Social inclusion resonates deeply with us because we both come from immigrant families. When visiting Centraide's partner agencies, you immediately notice the difference they make in the lives of the people they serve. They stand out for the quality of their services and the impressive dedication of their volunteers, which adds even more value to our donations !"
THANKS TO MAJOR DONORS
This directory presents all the Major donors who have contributed to Centraide over the past year. Find out by filtering your search by name or by donor category.
Filters
Karine Barrette et Frédéric Yale-Leduc
Lorayne et Christopher Winn
Famille Darryl et Cassandra White
Major Donors and Gold Leaders Directory 2019
The list of donors who have contributed to Centraide with a personal donation of $5,000 or more, punctuated by eloquent testimonials.