Living on the margins.
We all dream of living in an inclusive society that has a place for everyone. Unfortunately, some people still experience social exclusion due to a personal characteristic (sexual orientation, gender identity, age, disability, ethnic or cultural background) or a difficult situation (job loss, family upheavals, mental health problem, difficult immigration experience) that can lead to a whole host of hardships.
Social exclusion is not an individual issue. It concerns everyone. Poverty has a human cost, as it deprives society of its full pool of talent.
Social exclusion can be caused by a whole host of hardships
For example, losing a job can cause housing or food problems, affect a child's academic success, or lead to family breakdowns or a loss of friendships.
What is social exclusion?
Social exclusion is the exclusion or marginalization of individuals or groups of individuals from society.
Did you know?
Poverty is a major risk factor for social exclusion, just as social exclusion is in turn a barrier to overcoming poverty. People then get trapped in this vicious cycle!
Testimonial
Homelessness is the most extreme and obvious form of social exclusion. Being in this situation means experiencing social exclusion in many forms: from work, from housing and from family.
Preventing youth homelessness is one of our priorities. By intervening at critical times in their lives, we can help these youths overcome hardship, develop their independence, and continue their path on a more solid foundation.
Everyone in Saint-Michel knows Brenda. She's a street outreach worker who's always there for young people in both good times and bad.
I grew up in a family that firmly believes in support and generosity. I also came from an underprivileged neighbourhood but didn't know it—that was simply how we lived! When I left to go to CEGEP, I realized the reality of where I came from and then felt a desire to help others.

Basically, my work is to create relationships of trust, be there for people, get involved in the neighbourhood, and make myself available. People say, 'I see you morning, noon and night on the bus, at the park, at school: you're everywhere!'

The connections I create aren't working relationships; they're interpersonal ones. This trust helps me address the different social problems facing youth and to informally help them directly where they are. I'm out on the streets 35 hours a week to be there whenever young people need me—and even when they don't.

The kids I help are like you and me when we were young. They have the same problems that all kids go through on their journey to becoming teens and adults. They are looking for work, have family conflicts, or have no clue what to do with their lives.They wonder about sex, their first relationships, or contraception.

Their concerns go from 'I have nothing to eat this morning' to 'I'm getting bullied' or even 'I lost my health insurance card.' There is such a broad range! However, some kids are more vulnerable than others. We have to be there for them.

My work is very rewarding. I love helping, connecting, talking with other outreach workers, and collaborating with people in the neighbourhood. Through my work, I've met hundreds of new people who have given me many different perspectives about all aspects of life."

Brenda
Street worker
These activities help some people regain their self-confidence and develop their potential. For others, these strategies help minimize the negative effects of poverty, break their isolation, promote their rights, and foster their social integration.
The activities help people in a situation of homelessness, seniors living alone, people with disabilities, people with mental health problems, newcomers, or people from visible minorities.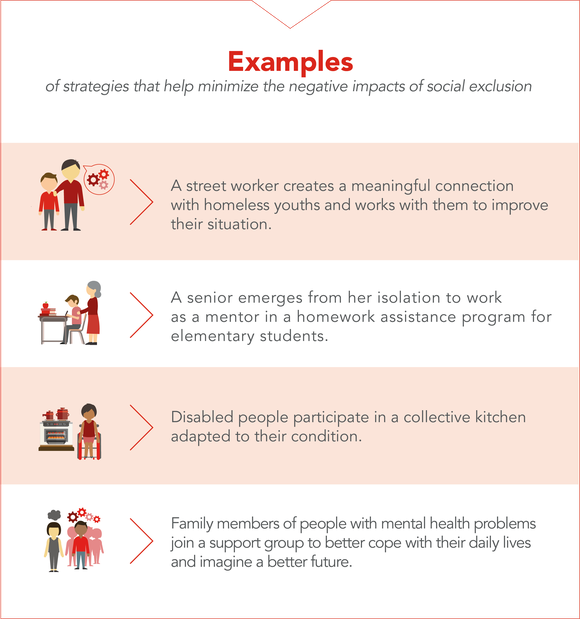 Additional supports
Always attentive to the needs of the Greater Montreal community, Centraide has stepped up its efforts with two special funds to fight social exclusion even more effectively.
In winter 2016, when Montreal welcomed thousands of Syrian refugees, Centraide of Greater Montreal helped in the collective effort with the Support for Newcomers Integration Fund. Since then, this fund has increased the capacity of agencies to meet increased demand and support workers in the field to facilitate the process for newcomers.
Created following the tragic Quebec City mosque shooting in January 2017, the Inclusion Fund reinforces the work of agencies that are deploying school-based education and awareness programs to fight intolerance, discrimination and bullying.