Just like us, you also care about our community. Welcome to our brand-new website for everyone who, like you, wants to do their part to fight poverty and social exclusion in Greater Montreal.
This site is meant to be intuitive, interactive and useful for everyone
It has been redesigned to provide you with a new digital experience whether you are using your phone, tablet or computer. The design and interface have been completely revamped to make it easier to navigate the site and search for and share information.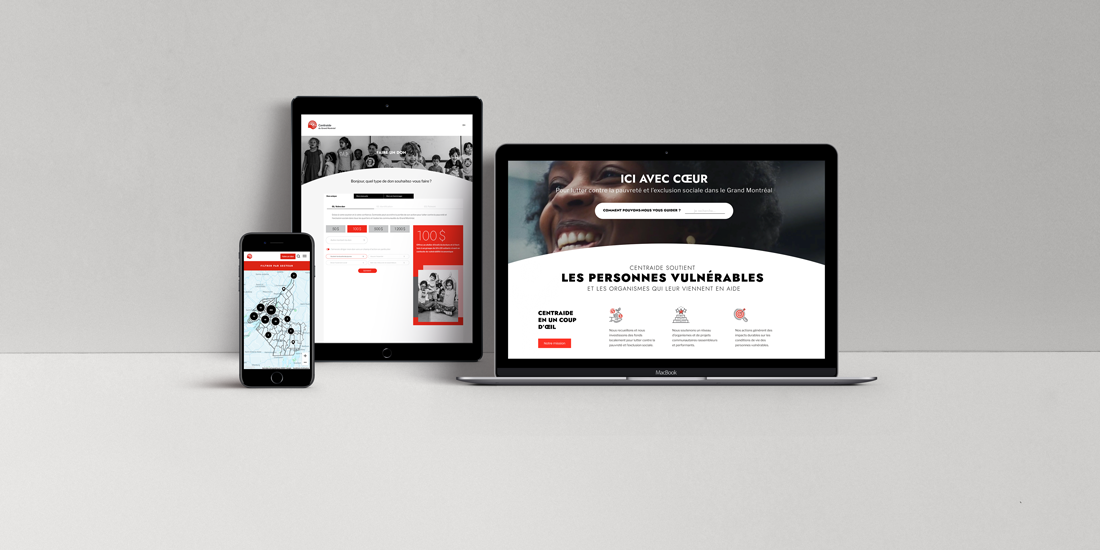 An endless source of information
The site highlights how the 350 community agencies we support play a crucial role in reinforcing the social fabric of Greater Montreal and transforming our local communities. Learn more about them in a special section just for agencies: filter them by name, territory, area of action or by postal code to locate ones near you.
Understand the impact of Centraide's activities in the community, such as its areas of action, strategies, investments and their impacts, plus its COVID initiatives. Meet the people who make up Centraide—employees and volunteers, community workers, people helped, and donors—from portraits and testimonials throughout different sections of the site.
---
Make each visit to the site your own! Browse through Greater Montreal's cities and neighbourhoods.
---
Rich and diverse content
Immerse yourself in rich and diverse content about philanthropy and community action on our brand-new blog. Centraide will use its blog to share its expertise and perspective about subjects from current issues to agency actions and neighbourhood profiles, in multiple formats such as articles, testimonials, portraits, infographics, and videos. A new feature will let you easily share these posts on social media.
Make each visit to the site your own! Browse through Greater Montreal's cities and neighbourhoods to learn about their needs and challenges thanks to our socio-economic and socio-demographic profiles and data about living conditions and diversity. Find the community agencies that work in these neighbourhoods. Enter your postal code to better know and understand your own community.
Opportunities to get involved
Want to get involved? There are many ways for you to give: by donating, launching a Centraide campaign at your workplace, or becoming a volunteer in the community. Our fully secure donation page gives you several ways to express your generosity, such as through a one-time or monthly donation, a donation to honour a loved one, or a planned gift. Choose the option that suits you best and donate right now.
Have questions?
Consult our brand-new FAQ section or write to us for more information.
Enjoy the site!