The pandemic has clearly not weakened our social fabric: in fact, it has only made us more close-knit. Certainly, we still have many challenges to tackle. Some people had to stop volunteering because activities were cancelled or due to health risks. However, community agencies have been very adept at coming up with solutions.
Below are three examples that you can learn all about right now that show how anything is possible when Centraide, community agencies, volunteers, and donors join forces.
New services to provide better help
The Centre d'action bénévole de Boucherville (CABB) decided to go digital when launching its new volunteer opportunities. Volunteers help caregivers become familiar with digital tools such as Zoom or offer professional home assistance to look after a senior so that their caregiver can attend a CABB webinar. This is an effective way for them to get support while having peace of mind.
Analogue solutions work too
Projet Changement, an agency in the Le Plateau-Mont-Royal, is facing increased demand from seniors as its numbers of volunteers to meet this demand have dwindled. Since many people they help are over 70 years old, meeting this demand is essential. The agency therefore reviewed and adapted its practices to connect with people virtually and over the phone.
During the first two weeks of the lockdown, volunteers made 1,400 phone calls to see how seniors were holding up, make sure that they had enough to eat, and check that they had support from ones. Projet Changement therefore kept the safety net around seniors intact, particularly when it came to their mental health. Friendly calls to break their isolation and small support groups to help everyone cope better with the lockdown were just some of the activities offered.
But what about seniors without Internet access?
For this group, the agency launched a "correspondence" project and had a group of volunteers and staff send personalized letters to about 230 seniors, who could answer back in a pre-stamped envelope and then receive a personalized call. This kept up a connection so that the agency could intervene when necessary to prevent their clients from mentally or physically deteriorating. The letters also included stimulating activities.
Projet Changement's work is extremely necessary given the number of seniors who suffer from loneliness.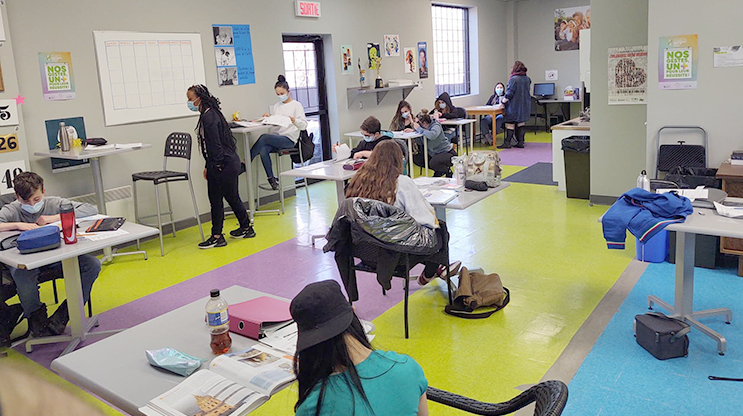 Volunteers who care about youth success
Diapason-Jeunesse, an agency based in Laval, has a mission to help young people aged 12 to 17 stay in school. It has about fifty volunteers who help young people through online or in-person tutoring sessions (with homework or lessons) to help them stay on track toward their academic success. They also offer mentoring activities such as in-person workshops in small groups—in accordance with health rules—on topics such as music, art, career guidance, scientific research, and more. These activities help young people feel connected and let them discover their interests while developing their self-esteem.
The agency also has peer support workers, or young volunteers who are often CEGEP students and many of whom have used the agency's services in the past. On an appointment basis and in complete safety, secondary students can go to the CafARDEUR café a few times a week to do their schoolwork with one of these peer workers. This welcoming and stimulating space creates the right conditions to encourage students to stay in school or go back to the classroom.
Centraide of Greater Montreal supports 12 volunteer cation centres (CAB).
During Nutrition Month in March, a group of about 40 volunteers from Cyclistes solidaires went around to seniors to drop off their mail along with items to make a good homemade soup.
Diapason-Jeunesse: 138 young people are registered in activities.
Are you eager to get involved and help your community?
Volunteering is for you.