In mid-March, when most of us began self-isolating at home for who knows how long, others had to scramble for shelter. The pandemic has made the homeless and people in precarious housing situations particularly vulnerable.
From the start, homelessness agencies went on high alert to protect their clients; however, the mounting issues became more than they could handle on their own.
In just a few days, many resources were forced to shut down or restrict their activities to comply with social distancing rules. The crisis upended many services, such as housing, food aid, supervised injection sites, and access to health care. Overwhelmed street outreach workers struggled to find alternatives to meet pressing needs.
But we can see how, in just a few weeks, homelessness resources have mobilized to confront the crisis.
From the field thanks to the Emergency Fund
As an issue, homelessness involves needs that relate to housing, food aid, support for mental health and addictions, support for marginalized youth—the list goes on. The Emergency Fund has helped agencies deal with all kinds of unexpected and sudden situations. It has also given rise to amazing stories of support and solidarity as everyone works to make sure no one is left behind.
Le Sac à dos: On the front lines at Place Émilie-Gamelin
Place Émilie-Gamelin is very busy these days, as 200 meals are served daily to the homeless, people with serious substance abuse problems, and a brand-new clientele of the recently unemployed. Le Sac à dos provides on-site psychosocial counselling, and workers in its Brigade verte social reintegration program are performing clean-up operations. A squad of City of Montreal employees released from their duties are also lending a hand to the entire team. What a great example of people helping people!
Cactus Montréal takes the lead on safe injection sites
Unfortunately, the health crisis won't stop people with addiction problems from using. But their ability to do so safely has become extremely limited due to the forced closure of the smaller safe injection sites. Cactus Montréal, a leading agency in this area, has taken the lead to protect this particularly vulnerable population. Health measures have been set up, and health care is now delivered through telemedicine. This is an essential prevention measure for the 220 people on average who use this service every day.
Auberge communautaire du Sud-Ouest is keeping youth off the street
At this caring centre specifically for young people aged 18 to 30, the team of counsellors has expanded to offer ongoing support to the 20 young people who live at the centre and the 38 tenants of community apartments who are confined at home. Listening, support, and psychosocial counselling are all in place to make sure no one ends up back on the street. Helping people get through these weeks of confinement is better than seeing them start over from square one!
Testimony
PACT de rue works in seven neighbourhoods in Montreal's north and east ends, which have different realities for street youth and people experiencing homelessness compared to downtown.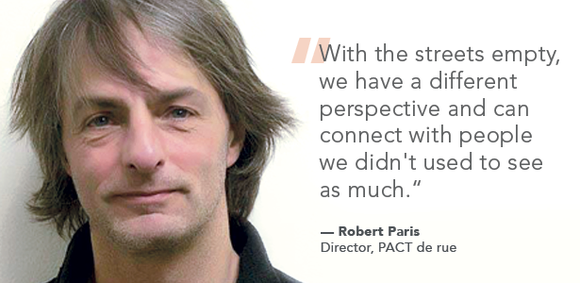 "These young people are off the street now, so we keep in touch with some of them by phone. With the streets empty, we have a different perspective and can connect with people we didn't used to see as much. Our street outreach workers have identified about 100 homeless people scattered around metro stations and stores. In adjacent neighbourhoods, the homeless have a different reality.

They don't want to go downtown, where they would have more services right now. They have their own territory, network, and habits. So we keep in touch with them and let them know about measures to limit the spread of the virus. We give them drug paraphernalia and direct them to food aid. We're doing everything we can to reassure them and keep them safe."

Robert Paris
Director, PACT de rue