Vulnerable populations have experienced intense hardship over the past two years, and the situation does not seem to be getting better. While 21% of Greater Montreal households earn less than $30,000 a year and were already struggling to make ends meet, they are now facing the biggest inflation spike in 30 years.
The increased cost of living indeed affects everyone, but the rising cost of food, housing and transportation in particular hits the poorest individuals and families hardest since they have to dedicate so much of their budgets to these costs.
---
The poorest households also have to cope with the non-stop rise in the cost of consumer goods as their incomes stagnate.
Impossible choices
When budgets are limited, people have to juggle basic needs. Families are forced to make heartbreaking choices, such as between paying the rent or buying food.
This is the case for the 275,000 renter households (36% of all renter households) who have to spend too much (over 30%) of their income on housing, which compromises their ability to meet other basic needs. In fact, more and more people are resorting to emergency food support.
+4%
Greater Montreal continues to feel upward pressure on the average cost of rent this year after breaking a record last year that dated back to 2003. Those who are less well-off are finding good housing harder and harder to come by.
+5% to 7%
According to the latest data, the overall cost of food will increase by 5% to 7% in 2022, for the largest increase in history. The fear is that this growth will be even higher given the current global context. In concrete terms, this means that a family of four will have to spend nearly $1,000 more on food this year compared to last year.
22%
Food bank use in Quebec shot up by 22% between 2019 and 2021. 610,000 people are now helped every month, compared to 500,000 people in 2019.
Worrying impoverishment
Feedback from the community sector and other key indicators are also cause for concern. This is particularly true of the food insecurity rate in Quebec, which remains higher than before the pandemic (17% at the end of fall 2021, compared to 11% before the pandemic), and we fear that vulnerable populations will become even more impoverished than they already are. To keep this from happening, the community sector acts as a critical part of the social safety net by providing support and services to meet basic needs.
Agencies also impacted
Like other sectors, the community sector is struggling to attract and retain human resources and is coping with exhausted staff, which makes it even harder for them to respond to needs. Agencies also have to deal with the significant surges in food and gas prices, which, in the context of increased demand, is compromising their very capacity to help people.
Centraide always there
to face adversity
Fighting food insecurity
The rise in grocery bills and food assistance requests puts so many families in a financially precarious situation. By supporting diverse initiatives such as collective gardens, group purchasing, community grocery stores, collective kitchens, or food deliveries to seniors, Centraide is demonstrating that food security remains an investment priority and that it is still a key player in this area for Greater Montreal.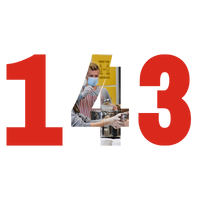 This is the number of collective kitchens in Greater Montreal. These small groups of people come together to share their time, money and skills to cook affordable, healthy and appetizing meals to take home.
Responding to multiple housing issues
Rental prices in Montreal are skyrocketing due to the scarcity of the housing supply. This directly affects vulnerable groups, who are sometimes forced to live in substandard housing. To cope with this crisis, Centraide is working with key players such as housing committees, which provide information and support to people with housing problems and defend tenants' rights.
This is the number of people who turn to their neighbourhood housing committees each year for information or support (housing searches, administrative procedures, substandard housing issues, advocacy, etc.)
Intensify our actions around equity, diversity and inclusion
Inflation adds yet another challenge for marginalized people, such as newcomers and racialized people, who are also having a harder time recovering from the pandemic (due to a higher unemployment rate, lower wages, etc.). Their vulnerability is felt through difficult living conditions, as these groups are more likely to end up in substandard, undersized or overpriced housing. To tackle these issues, Centraide is continuing to provide significant support to agencies that work with immigrant, racialized and Indigenous populations
This is the number of people reached by our network of agencies that intervene mainly with immigrant, refugee or racialized populations. Various services are offered to them: information and referrals, psychosocial support, anti-discrimination actions, intercultural pairings, food aid, support in finding housing, drop-in day cares, support for parenting, liaisons with the school system, and more.