What if everyone did just one small thing …?
The holidays are never easy for the vulnerable, and this year's season will likely be even harder. Community agencies are preparing for what's to come: more isolated people, exacerbated mental health issues, youth in distress, and families experiencing food insecurity. Agencies will be on the front lines to help people through this difficult period.
This season is also a time when we all want to do our part to give everyone some holiday joy. Are you wondering about how to contribute? Below are some ideas on how you can help during the pandemic.
Usefull links for donating, giving and sharing

To donate food:
Moisson Montréal, Moisson Laval, and Moisson Rive-Sud
To donate toys:
The Laval toy drive initiative and the Santa Claus workshop at La Maison à Petits Pas (at the corner of Guy and Sainte-Catherine)
To give gifts that make a difference:
Distributions l'Escalier and StimulArts
To donate warm clothing:
Agencies for immigrants and refugees
To volunteer:
Je bénévole
---
In the field
Discover some initiatives created to help vulnerable people get through the holidays this year.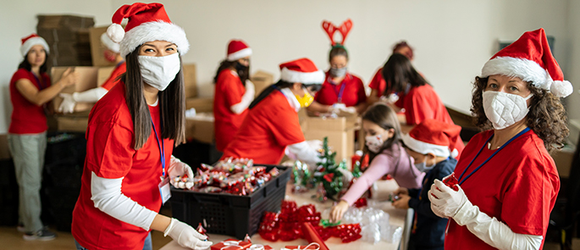 Christmas elves make a stop in Montréal-Nord
Although we don't know yet whether their Dasher and Dancer will be pulling their sleigh, Santa's elves will indeed be travelling through Montréal-Nord on Thursday, December 17 to hand out gifts to children and provide festive food baskets to families right at home. Entre Parents de Montréal-Nord in partnership with Les Fourchettes de l'Espoir and the Spartiates du Cégep du Vieux Montréal had the idea to invite them. But keep this news under wraps! It's a surprise! This initiative will surely do some good for this community that has been hit hard by the pandemic.
Emergency winter food aid replaces Christmas thrift stores
The Christmas thrift stores normally found in 17 of Montreal's neighbourhoods let families shop with dignity by offering them a wide variety of food items to choose from. Due to the crisis and associated health measures, the soaring demand for help, and the exhaustion of all staff working hard on the front lines, the usual Christmas thrift stores will be replaced this year with larger-scale and longer-term food aid. Thanks to the 2020 emergency winter food aid initiative, quality perishable and non-perishable food items that don't need sorting will be given out to 48,000 people through 21 community agencies in as many neighbourhoods in Montreal. Neighbourhoods will take turns receiving a total of two deliveries each so that they can offer baskets with two weeks' worth of groceries for low-income households. This initiative will take place between December 14, 2020 and January 22, 2021. Through the four weeks of delivery, the Regroupement Partage aims to reach 36,248 more people than in 2019, for an increase of 308%.
Bundles of Christmas magic for seniors
At the Comité d'animation du troisième âge de Laval (CATAL) in-person Christmas dinners for up to 30 seniors per day began in November and will continue over four weeks. For a few dollars, seniors can leave with some leftovers just like at a real family get-together! Video recordings of the music performed by the Christmas-dinner pianist have also been posted on the agency's website. The usual intergenerational activities that are very popular during the holidays will still take place thanks to students from French-language classes at École secondaire Mont-de-La Salle. Greeting cards, Christmas carols in several languages, and quick video chats are some of the activities these young people have in store for their older friends. And of course, we can't forget the gift bags of beauty products and chocolate goodies! A group of volunteers will also continue making friendly calls throughout the holiday season.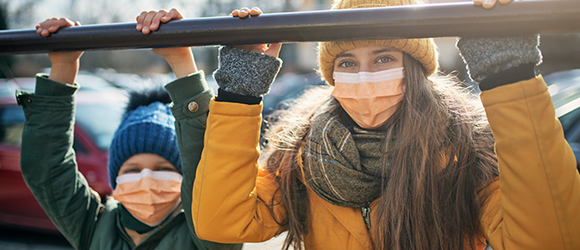 Young people and their pandemic holiday experience
At SQUAT, the space at Macadam Sud for 12- to 17-year-olds, teenagers can purchase kits and watch online demonstrations on how to make lip balm and moisturizer or how to dye face masks. The kids love this activity to create their own DIY Christmas gifts. Throughout the school break, the day centre will stay open except on the statutory holidays. Every year, this is a special time when the centre comes alive with festive music, games, and sweets. And this year will be no exception, although it will be very different given the distancing measures.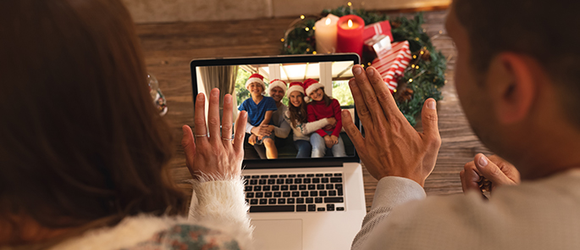 A tradition kept alive for Verdun families
The annual family Christmas dinner held at Toujours ensemble will be a home affair this year. Over 100 meals prepared at the agency's kitchens will be delivered to families for the occasion. Wonderful surprises are also on the menu for this unique celebration. All families registered for the Christmas campaign will get Christmas baskets delivered to their homes with everything they need to make a fantastic holiday meal along with enough food to last a week. All young people from Toujours ensemble who are registered for the Christmas baskets will also get Carrefour Angrignon gift cards.
Holiday support for homeless youth
When they awoke on December 1, young people at L'Antre-Temps de Longueuil, a shelter for 16- to 21-year-olds, discovered a large advent calendar that offered a little surprise each day: a break from chores, permission to choose supper or get some Internet time, a video night, a pizza night, candy, and more. Special dinners will also be organized on December 24 and 31 to create some special moments usually spent with family. About 20 former residents will also receive generous Christmas baskets filled with frozen meals cooked by current residents. They have been working on this project for a month and will, of course, dress up as elves to make their deliveries! The team will also make a series of phone calls to make sure no one is feeling isolated.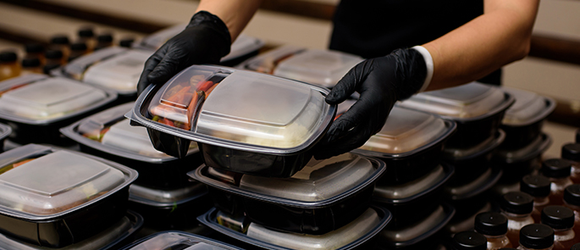 Airplane meals travel to the plates of people in need
The Grande boucle solidaire de l'aide alimentaire is getting ready for their holiday deliveries in Montreal's east end. During the week leading up to Christmas, over 10,000 dishes will be delivered to drop-off points run by about 40 community agencies for redistribution to individuals and families in need. Since its inception at the start of the lockdown, the Réseau alimentaire de l'est de Montréal has purchased over 235,000 meals from airline catering company Fleury Michon in order to provide emergency food aid. No wonder the project is gaining in popularity! This amazing idea has brought people together while benefiting the entire community.
Chic Resto Pop offers a take-out menu
Fancy restaurants aren't the only establishments offering take-away, as Chic Resto Pop also has a take-out menu. Although their dining room has been closed since the spring, you can still get a hearty hot meal at the counter for about $4 to $5. The restaurant mostly serves people in need. If you go there during the holidays, don't hesitate to eat your fill and cover a meal for someone else. A dining experience that gives so much joy!
---
Partnership
On the front lines for the homeless
Since November 15, a winter shelter at the Grand Quay of the Port of Montreal has been giving hundreds of homeless people a place to eat, rest, and get health care services. A shuttle system will gradually be created to connect with the homeless who live in outlying neighbourhoods. An initiative of Accueil Bonneau, this project is the result of a collective effort between the City of Montreal, the CIUSSS du Centre-Sud-de-l'Île-de-Montréal and Centraide.