Today is December 1, or Day 1 of our year-end calendar filled with ideas about how you can spread some holiday magic while helping people experiencing poverty and social exclusion.
December 1st
Drop off your non-perishable food items at designated areas throughout the Greater Montreal area. Needs are great. Community agencies in Montreal get nearly 900,000 requests for emergency food assistance every month.
December 2
Today and tomorrow, take advantage of Distributions l'Escalier's mega warehouse sale. Choose from over 300 fine Quebec products. The proceeds will be reinvested in the agency's social mission to support young adults in difficulty or a situation of homelessness. Come to 4455 Rouen Street in Montreal between 9:00 a.m. and 8:00 p.m. today and 9:00 a.m. and 6:00 p.m. tomorrow.
December 3
International Day of Persons with Disabilities is celebrated every year on December 3. Do you know a child with special needs due to an intellectual disability or autism spectrum disorder? You could offer their parents some respite during the holidays.
December 4
Have you noticed that your Christmas decoration bin is full to overflowing? Get rid of your extras now instead of in January to let someone in need spruce up their home with the spirit of the holidays.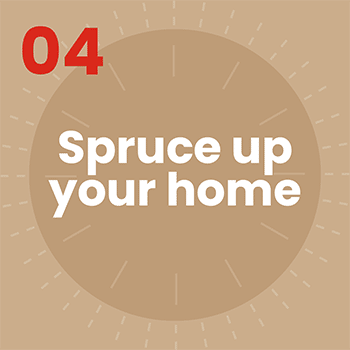 December 5
December 5 is International Volunteer Day. Did you know that 54% of Quebeckers volunteered for charities last year? Maybe you could help out this year too! More details here.
December 6
Do you want to send a gift to someone who really needs one? Make a surprise box with something warm, something fun, a beauty product, a book, and a note of good cheer. Homelessness agency PACT de rue will pick up these boxes at 616 Jarry Street East between 1:00 to 4:00 p.m. from Monday to Friday and hand them out to people at the day centre during the holidays.
December 7
When planning your holiday dinners, think about non-profit caterers with a social mission, such as Resto Plateau in the Plateau or La Corbeille Bordeau-Cartierville.
December 8
This weekend, plan a visit to see a senior during the holidays. Let them know right now so they can start looking forward to this special moment.
December 9
The holidays are a great time to talk to children about generosity. Invite them to choose a toy that another child would love. Agencies like the Joujouthèque are always happy to get toys in good condition!
December 10
Make your own greeting cards for your neighbours, friends and loved ones or anyone you haven't seen in a long time. This is also a great activity to do as a family.
December 11
Many agencies that help seniors proactively ensure that vulnerable seniors are doing okay during the holidays. Groups of volunteers will make in-person visits or comforting calls to people who are more isolated. Have some time to volunteer? Register at jebenevole.ca
December 12
On your morning walk to the office, take a moment to greet someone who is experiencing homelessness. Just a friendly nod or a "hello" with a smile will make the person feel less alone and isolated.
December 13
Put a Christmas story in a local book-sharing box, which can be found in most Montreal neighbourhoods. Include a cute bookmark to leave a cheery note for the next child who discovers the book.
December 14
Save the date for the Christmas concert of the Grand Chœur du Centre-Sud, a musical ensemble that helps break the isolation of vulnerable people by inviting them to join a collective project that enhances their social inclusion. The concert will be held on Saturday, December 17, at 8:00 p.m. at the Église Sacré-Cœur. Voluntary contribution ($20 recommended).
December 15
Take a few minutes to browse our directory of agencies to learn about community resources in your neighbourhood. Use your postal code to search by location. Being better informed about these resources makes it easier to help others.
December 16
Is Friday your favourite day of the week? Then think about spreading your cheer to someone living on the street by buying them a coffee, soup or sandwich.
December 17
Today, visit the Notre-Dame-de-Grâce pop-up Christmas market to find an original gift. Local artists and artisans are offering exclusive products, from jewellery, accessories and clothing to pottery and household items. YMCA NDG, 4335 Hampton Avenue.
December 18
Have some newcomers just moved in near you? Don't hesitate to knock on their door to welcome them to the neighbourhood. This is a great way to get to know them and create some neighbourly connections. Today is International Migrants Day. We recommend that you read this blog post we just published for the occasion.
December 19
Are you spending all day cooking up a storm for the holidays? Why not double or triple your recipes and give out the extras to seniors in your life or single parents who are feeling the stress of the season?
December 20
Are you entertaining during the holidays? This year, make sure guests don't bring hostess gifts. Instead, ask them for a pair of warm socks to donate to a shelter for people experiencing homelessness.
December 21
Winter is here! Any skis, skates, sleds or other sports equipment that you're no longer using will delight children discovering winter for the first time. Community agencies like Patro Villeray will happily take these items.
December 22
Your home will soon be filled with family! Put a small box on the dinner table and ask everyone to add a few dollars to give to a charitable organization, such as Centraide, after the holidays.
December 23
The magic of the holidays is all around us. Unfortunately, not every home is filled with joy. If you find yourself in a difficult situation, call 211 to be referred to the right resource.
December 24
Are you out of ideas when people ask you what's on your gift list? Why not suggest they make an online donation on your behalf? This gift will have a social impact by helping people experiencing poverty and social exclusion—people who could even be your neighbours! https://donate.centraide-mtl.org/index.php
December 25
We wish you a wonderful day of peace and joy spent with your loved ones.
And don't stop the holiday generosity, as our calendar will continue until December 31. There's so much we can do to help our community!
December 26
Invite everyone you know who lives alone to come eat your leftovers. Who knows? Today's party may be even more fun than yesterday's!
December 27
Did you know? A donation of $100 only costs you $67. Be generous! And get back your tax dollars. You have until midnight on December 31 to make your donation and get a tax credit for 2022. 
December 28
Today is a perfect day to sort through your clothes before the end of the year. Go through your closet and pull out some warm sweaters, hats, scarves or mittens you no longer wear. Drop them off at an agency that welcomes newcomers to help them brave the shock of their first winter.
December 29
Offer to help someone. Make a commitment to help with a future move, run errands, or accompany someone to a medical appointment.
December 30
It's time to take stock of your past year. If you think back over all your good deeds, you'll probably notice that being generous made you happy all year long!
December 31
You've made a few classic resolutions: getting back in shape, spending less time on social media, or reconnecting with an old friend. But what if we decided in 2023 simply to be kind to ourselves, to each other, to our community, and to the planet? Happy New Year and have a great New Year's Eve!
---
1 out of 5 people receives our help.
5 out of 5 people benefit from it.
Let's all lend a hand
Supporting a network of over 375 community agencies also means promoting an inclusive, poverty-free society.
---